SIALORRHEA CAN NEGATIVELY
IMPACT PATIENTS' QUALITY
OF LIFE AND CONTRIBUTE
TO SOCIAL ISOLATION.1,2
XEOMIN® is indicated in adults for the symptomatic treatment of: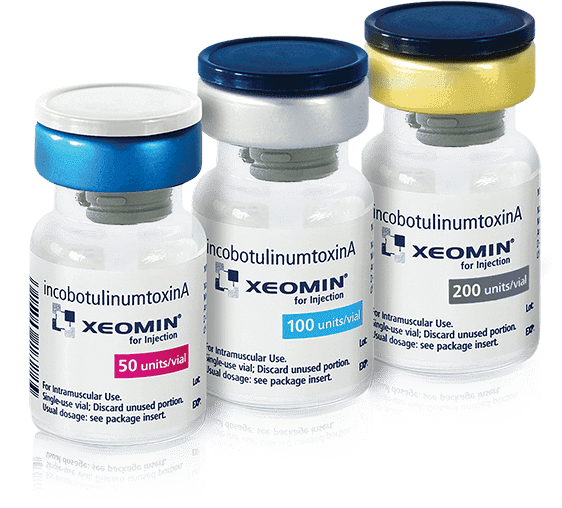 blepharospasm and hemifacial spasm,
cervical dystonia of a predominantly rotational form
(spasmodic torticollis),
spasticity of the upper limb
chronic sialorrhea due to neurological disorders.
focal spasticity of the lower limb affecting the
ankle joint - UK ONLY
XEOMIN® is the first and only pharmacological product approved for the treatment of chronic sialorrhea due to neurological disorders in adults.3
XEOMIN® (botulinum neurotoxin type A) is recommended by NICE, within its marketing authorisation, as an option for treating chronic sialorrhea caused by neurological conditions in adults. It is recommended only if the company provides it according to the commercial arrangement.4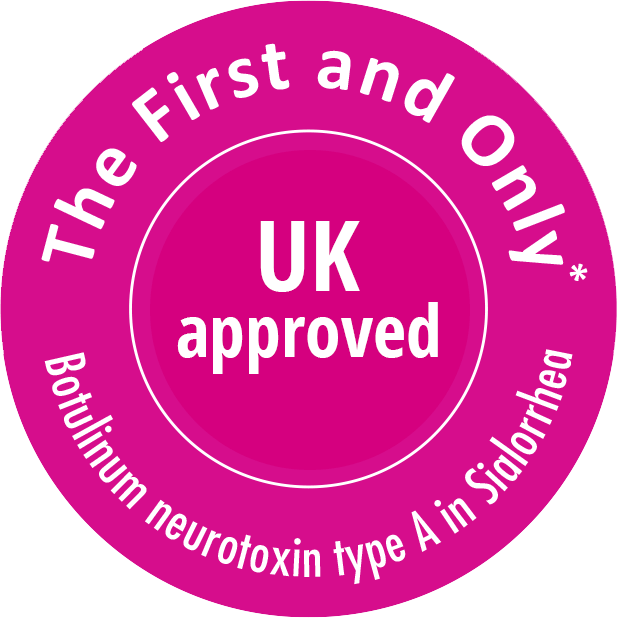 *As of May 2019
XEOMIN® showed a significant reduction in salivary flow rate vs placebo5
In SIAXI, a prospective, placebo-controlled, randomised, double-blind, parallel-group phase III study (n=184), XEOMIN® demonstrated:
XEOMIN® demonstrated a significant reduction in salivary flow by up to 33% versus up to 11% with placebo5
The coprimary endpoints were the change in unstimulated salivary flow rate (uSFR) from study baseline to week 4, and the patients' Global Impression of Change Scale (GICS) score at week 4.
PERCENTAGE CHANGE FROM BASELINE IN uSFR

Adapted from Jost WH et al. 2019.
Study includes adult patients with Parkinson's, Atypical parkinsonism, Stroke or Traumatic Brain Injury (TBI)5
Sustained reductions in salivary flow were observed with repeat treatments over 64 weeks6
Significant improvements in patients' perception of functioning vs. placebo at week 4 (p=0.002)5
XEOMIN® has an established tolerability and safety profile5,7
Generally well-tolerated in the initial main study phase up to 16 weeks7
Most common treatment-emergent adverse events (TEAEs)
TEAEs were defined as adverse events (AEs) with onset or worsening at or after the 1st injection of XEOMIN® or placebo up to and before 1st injection of extension period (EP) or in case of discontinuation before EP up to and including 16 weeks after 1st injection or date of last study visit, whichever was later.
Placebo (n=36)
XEOMIN® 75 U (n=74)
XEOMIN® 100 U (n=74)
Percentage of patients
Fall
0
8.1 (6)
2.7 (2)
Dry mouth
0
5.4 (4)
4.1 (3)
Hypertension
2.8 (1)
2.7 (2)
4.1 (3)
Contusion
0
5.4 (4)
0
Tooth extraction
0
0
5.4 (4)
Diarrhoea
2.8 (1)
1.4 (1)
4.1 (3)
Dysphagia
0
4.1 (3)
0
Urinary tract infection
0
4.1 (3)
0
The percentage of patients with AEs and treatment-related AEs in the XEOMIN® group was similar to
those observed with placebo. There were no unexpected AEs with XEOMIN® 5
Furthermore, XEOMIN® was generally well-tolerated in the extension phase up to 64 weeks8
No unexpected safety concerns were identified during three additional cycles of XEOMIN® 8
XEOMIN® is injected directly into the salivary glands providing targeted treatment of sialorrhea4
The following videos give guidance for injecting
with the use of ultrasound.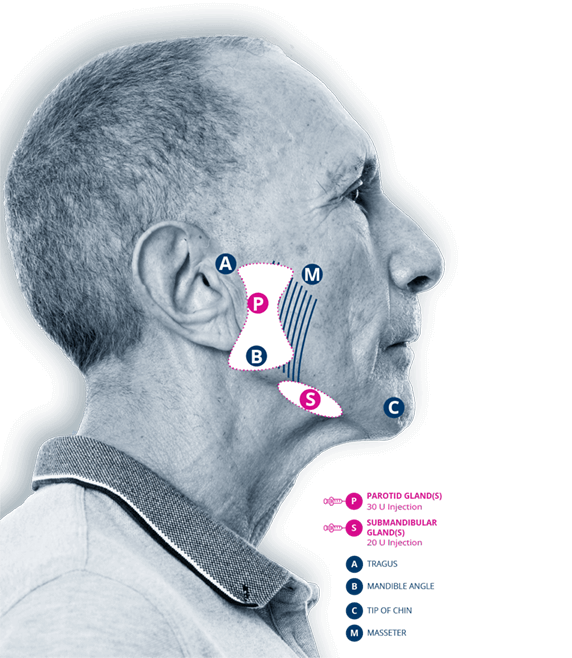 Injection Training:
Treatment of the parotid gland
Injection Training:
Treatment of the submandibular gland
To register for injection training click here
Recommended dosage
by injection location3
The timing for repeat treatment should be determined based on the actual clinical need of the individual patient, and no sooner than every 16 weeks.
| GLAND(S) | UNITS PER SIDE | TOTAL |
| --- | --- | --- |
| Parotid gland(s) | 30 Units | 60 Units |
| Submandibular gland(s) | 20 Units | 40 Units |
| Total | 50 Units | 100 Units |
Making a difference in sialorrhea
The following resources are available for download:
Contact us
By emailing and registering my data with Merz, I acknowledge that Merz Therapeutics may process my personal data in accordance with their privacy policy. I also acknowledge that Merz Therapeutics may use my personal data to contact me via email for marketing purposes.
What's NEXT?
What is your goal with your patients?
Let's take BoNT therapy to the next level, together.
Networking therapists - Promoting cooperation between therapists and BoNT injectors
Education - High quality injection training with internationally recognised trainers
XEOMIN® - Botulinum neurotoxin free from complexing proteins
Team - Committed to working together to improve patient outcomes